This content was originally published by our Dive Master Candidate Jean Pretorius on his blog. Please give his page a visit to read more about his experience with traveling, diving, and his journey toward becoming a PADI professional on Koh Phangan! 
What's up guys! I recently noticed that people tend to think traveling is all sunshine and daisies but that is a misconception, especially when traveling in a country that speaks a different language and has a completely different culture from what you're used to.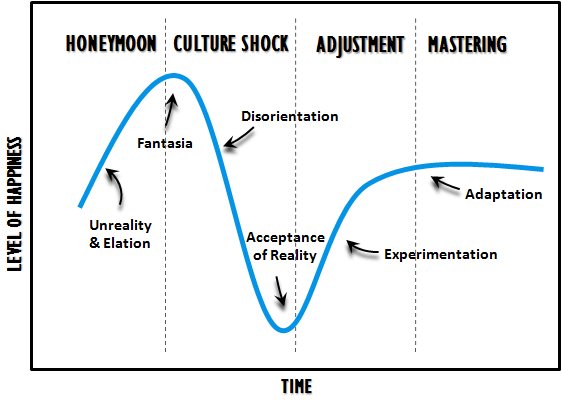 Traveling can be quite the opposite of what you expect it to be, even more so when traveling to a remote island in the gulf of Thailand. I'm here to share some info on getting to and from Koh Phangan. There are a few options to go about traveling to this island, all of which end in a ferry ride, so have some sea sick medication ready.
—Option 1—
When booking your flight to Bangkok the fastest way of getting to the island would be to make another flight booking from Bangkok to Koh Samui, a neighboring island of Koh Phagnan. Once on Koh Samui it is relatively easy getting to Koh Phangan by means of ferry or speedboat. Flying to Koh Samui in most cases are quite expensive and is not the best way to go if you're on a budget but it most definitely is the fastest and most convenient option. Ferrysamui is a great website to use for ferry and speedboat bookings but there are tons of other companies out there to choose from.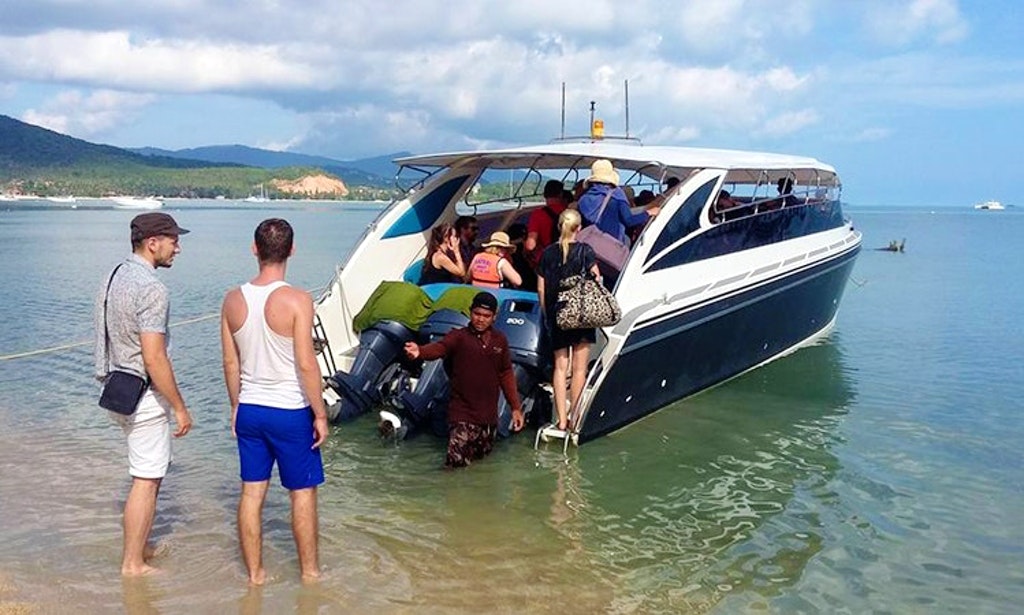 Speedboat from Samui
—Option 2—
When you arrive in Bangkok either at Suvarnabhumi Airport or Don Mueang International Airport you will have to get in a queue to get a number which will enable you to get a taxi. Some people prefer to spend a day in Bangkok before carrying on. The taxi can take you to your hotel if not you can tell him to take you to Khaosan Road.Depending on traffic this fare can cost anything between 350 bht – 600 bht, have cash on hand to make the trip smoother. This is a picture of what the meter in a taxi look like and the meter always start at 35 bht, this is a pickup fee.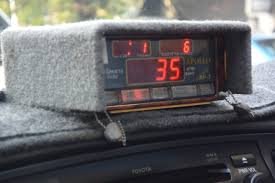 Once you arrive in Khaosan Road there are a few travel agencies you can choose from. The best two companies in my experience so far is Songsermand Lomprayah High Speed Catamaran. With Lomprayah it would be better to make your online booking ahead of time. A really good website I like to use is Ferrysamui and this for Songserm bookings. If for some reason you could not make an online booking you can also just walk through the doors and buy your ticket but you might have to pay a bit more as it would be considered as a late booking if you want to leave the same day.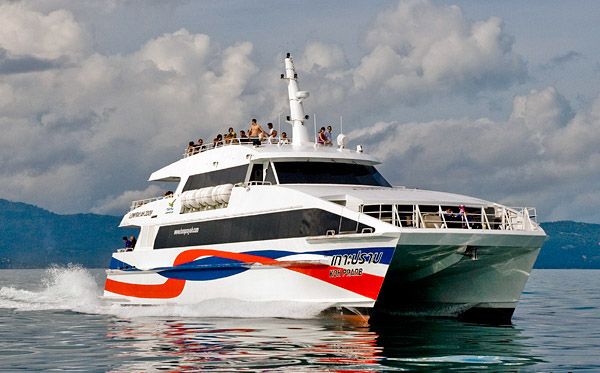 Lomprayah High Speed Catamaran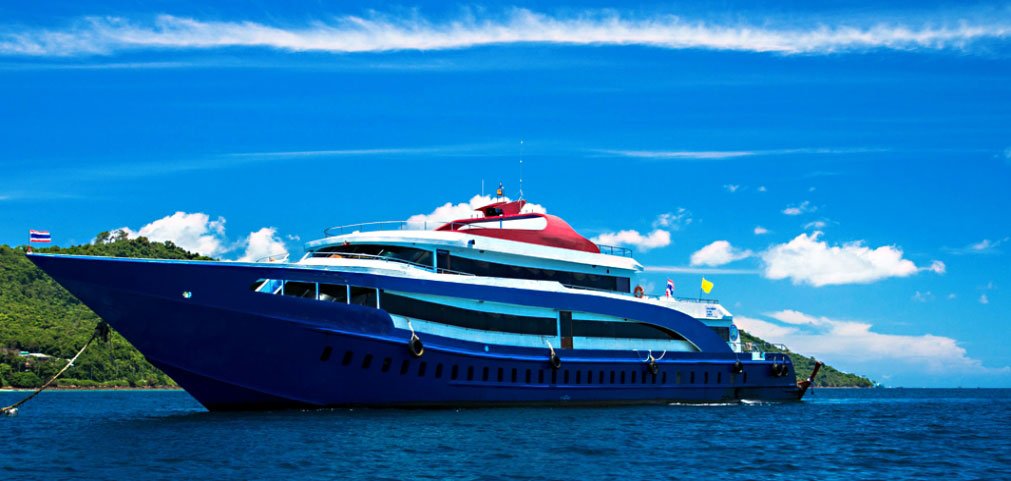 Songserm Ferry
Depending on the package you choose both of these two options start off with a 7-10 hour bus ride which link up with the ferry that will take you to the island. This option is much longer and more demanding but it is the cheapest, if you're traveling on a budget and looking to save some money for other fun things.
—Option 3—
This option is very similar to option 2 except it includes a train for those who enjoy to nap while on an overnight sleeper train. I have not done this yet so I have limited information about this but many people have told me some good things about this train ride.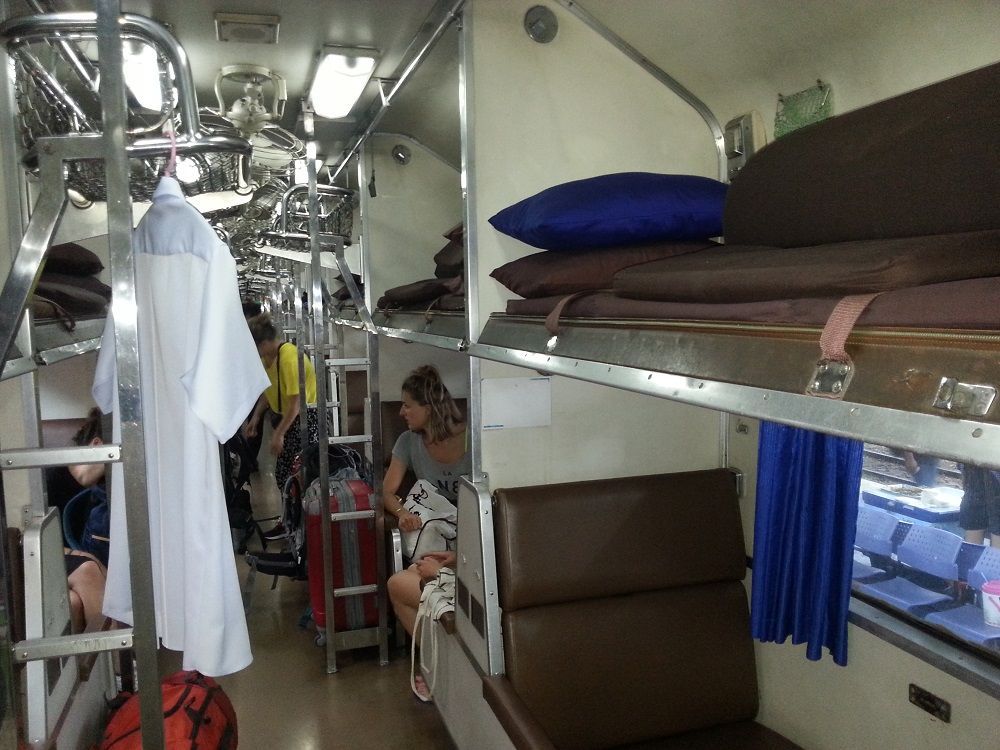 Sleeper train from Bangkok to Surat Thani
Basically this trip will take you from Bangkok to Surat Thani where you will catch a bus to Don Sak pier where you will get your ferry to Koh Phangan. Here are a few websites to check out if you're interested in this option.
Travelconnecxion
Thailandtrainticket
Hope you guys found this useful and I really hope to see some Steemians visiting Koh Phangan!
Make sure to check out my blog on Steemit. Till next time, take care.